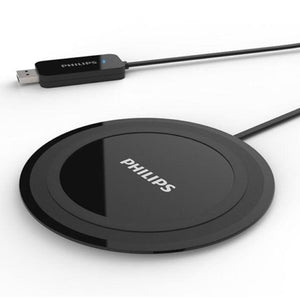 Philips Qi Wireless Charger DLP9055G/97
-Universal
-Fast charging
-Black
Wireless power output
-Up to 10W
Charging distance
-Up to 6mm
Power input
-5V, 2A / 9V, 1.67A
Wireless charger
-Quickly charge your phone without plugging it with a charging cable. Qi wireless charging for smartphones, tablets, and other devices with Qi wireless technology.
Qi wireless technology
-The wireless charging, Qi technology, is widely adopted by smartphones and other mobile devices. Philips wireless chargers are compatible with phones and other devices enabled with Qi wireless technology. Simply put the devices on this pad and you will enjoy the effortless charging experience.
Slim and light design
-A slim and ergonomic design allows it to fit anywhere without hassle.
High charging efficiency up to 75%
-High charging efficiency up to 75% during the power conversion.