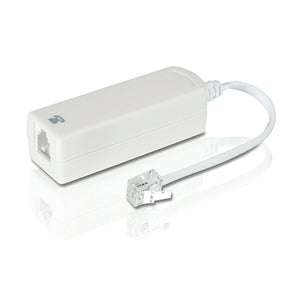 Philips DSL Line Filter SDJ6086H/37
DSL filter
-Reduce DSL interference and noise on your phone line for clear conversations.Works with all standard phones, fax machines, answering machines or other devices.

Reduces line noise
-Prevents interference with phone equipment by reducing noise generated by DSL service

Six conductor construction
-Allows for up to three different phone lines.

Crafted with quality construction
-Quality construction uses only top grade materials to create products of extended durability.

Environmentally friendly lead-free construction
-Lead-free construction of environmentally friendly materials.