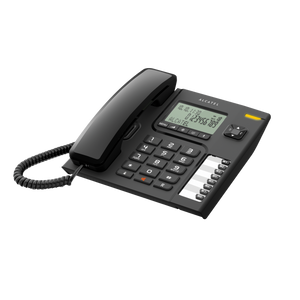 Alcatel Corded Telephone with Caller ID and Memory T76
Operating as an Eco-friendly product, T76 is BATTERY-FREE (thanks to the line-powered) for more convenience.

It is equipped with an extra-large numerical display, supporting features such as Caller ID type I and II*, new/missed calls notification, date/time display etc.

Other indispensable features include 8 direct and 10 two-touch memories to simply call your favorite contacts, and a hands-free function to share your conversations.